Here is the story about Black Arrow fraud company where I'm unfortunately the main participant. As an ordinary IT guy I decided to try myself in the world of cryptocurrency minining. In August 2013 I've bought a huge ATX motherboard with 4 PCI-e slots and expensive AMD video cards. The choice of cryptocurrency for mining was BitCoin. I've registered with 50BTC pool and mined something about 1.2 coins until the 50BTC pool was hacked. Later on I've dropped all the video cards (somebody received a perfect present) and decided to buy a specific mining equipment for BTC. During October 2013 I was browsing around the mining forums, trying to understand what is scam and what is real in the cryptocurrency world. Majority suggestions on the market were absolute fraud websites which suggested various ideas to bump your pocket and to fool you in polite manner. So I've made up my mind and
in December 2013 I've 
ordered Bitcoin miner from Black Arrow fraud company, a model Prospero X-3  for $6000 USD. 
While you are reading this, I hope you are not one of these customers like me, who did the same order from Black Arrow fraud company, so I will not ruine your mood for the rest of the day.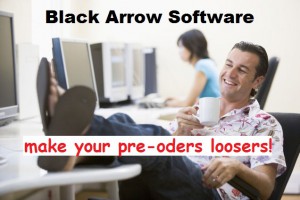 For the first two months it was alright, there were some "working issues" which could lead some delays and which were declared on weekly basis on their website. But after initial declared supply date (24th of February) it's appeared that nothing was ready. Since 1st of march 2014 the Black Arrow fraud company started feeding everybody with promises to double and after triple the mining power, publishing weekly report on their website each Friday. After 3 months of disgusting lie about their hard work in 3 shift on the factory in 24/7 working hours I applied for refund. A simple refund for the product I've paid in advance and which never was ready, and… the refused. They suggested some non-operational chips instead for real money and stop any communication.
Today is  November 2014 they are still unable to give me a refund. It is not possible to call any of their numbers neither in Hong Kong office nor in their "factory" in Shenzhen (China). So my money stolen, product I paid for was never produced, and what is more important they still continue their fraud activity. In other words – they are simple scam!
They delete negative posts on their own forum in order to retain any chance of getting more pre-orders from new an unsuspecting customers.
So if you are among the customers of this "wonderful" and "honest" company you may find these information useful.
Company owner:
Mr Alexandru Ion Sovu 24 Branksome Court Prospect Street, Reading RGI 7XR Berskshire, UK
If you have purchased any equipment from Black Arrow fraud and never received it, here is how to file a complaint with the Hong Kong Consumer Council. The black arrow company is registered in Hong Kong, so the you may apply here
consumer.org.hk
By the way, I've made such fraud report to Consumer Council in HK 3 months ago and since that time I got slow progress in communication, and receiving various e-mail that they trying to resolve the situation, but without any success so far. You may try to contact
Hong Kong police
via their website, but I found it absolutely useless, so don't spend your time until you have ability to apply in their police department in person, that would be fare more efficient. Also you may find useful this annual financial report of the owner of BlackArrow fraud company
here
And their address:
Black Arrow LTD Room 1701, 17/F, Henan Building, No. 90-92 Jaffe Road Wanchai, N/A Hong Kong PHONE: +852 8199 0849 Yes, keep in mind, that they do not have a factory on the address above, but anyway here is the detail of the company where the money were transferred. I hope this information and this post will help you to understand better who is the Black Arrow fraud company.
Declaration.
I'm fully responsible for what I've told here in this post on my website and ready to prove each word I say. You can easily catch me via contact form on this website.
Update!
Protest against Black Arrow in the middle of Hong Kong on the square near HSBC bank. This summer! Join us now – write to contact form on this website.