The world is changing rapidly. I'm glad to announce that more and more alternative CPU appeared today. Since the leadership now belong to US companies like Intel and AMD, and British ARM, there is another release of newest Russian CPU – "Elbrus-4C". It's predecessor "Elbrus 2C+" was good enough for almost any real world needs, but this new "Elbrus-4C" is almost equal to modern desktop and server CPU the market leaders.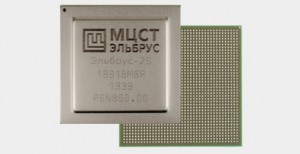 So, greetings to "Elbrus-4C". But the way, the photo above may look confusing, where the name of the model is 2S, but this is the way the marketing named it, so it it not "Elbrus-2S" but "Elbrus-4C".
Elbrus-4C

Elbrus-2C+

Tech processes

65 nm

90 nm

Frequency

800 MHz

500 MHz

Cores

4 cores

2 cores

Threads

23 per core

23 per core

TPD

45 w

25 w

Voltage

~1.1-1.9 v

~1.1-2.5 v

GFLOPS

50 GFLOPS

28 GFLOPS

Architecture

Elbrus proprietary RISC (hybrid of

VLIW

and SPARC v.9)

Cache L1

1 MB total (256 kb per core) ?

256 kb total (128 kb per core)

Cache L2

4 MB ?

1 MB

DSP cache

256 kb per core

128 kb per core

RAM supported

DDR3-1600

DDR2-800

Package

HFCBGA

Pins

1296

Transistors

?

368 millions

SMP

Up to 64 CPU

Up to 32 CPU

OS, SDK and software supported

Native support

Linux Kernel 2.6.33, Debian 6 branch,

Sun Solaris old versions,

Intel/AMD

instructions set.

F

ull SDK pack, C&C++

and FORTRAN compilers.

x86 powerful emulator

s

, amd64

(for Elbrus 4c) emulator.
Looks really amazing. However the price and mass availability is still unclear. Following the rumors predecessor "Elbrus 2C+" was sold around state establishments and to military in Russia in numbers of 220 000 only. I think sales for the new Elbrus-4c will vastly increased, especially if US will implement the sanctions on Russia and will prohibit for leading CPU manufacturing companies to supply it's products to Russia.